COVID 19 Policy
Our COVID-19 policies have been created in the best interest of our guests and staff and have been defined following the direction of the BC public health officer & WorkSafe BC. We ask you to please respect and follow protocols to allow for all guests to have a safe and enjoyable stay.
Raging Elk COVID-19 Policies
What you can expect from us:
Enhanced cleaning – We have enhanced our already strict cleaning practices and will ensure all high touch areas such doorknobs, shared surfaces and keys are disinfected frequently and in accordance with public health guidelines. Staff will also disinfect all common areas twice a day.

We will be providing hand sanitizer at entrances to washrooms, laundry facilities and kitchen areas. We will kindly ask you to utilize our sanitizer before entering any public areas.

A plexiglass shield is installed at the front desk.

Contactless payment is available and recommended.

Our teams health is monitored daily and our staff have received additional training on hygiene protocols and procedures. We continue to monitor and implement industry and public health best practices.

We will be providing social distancing markers and maximum occupancy numbers throughout any common area in our building.

Kitchen usage for you or your pod can be reserved at reception.

Each dorm room will have their own designated shower cubicle.

Facial masks and cutlery totes are available for purchase at reception or please feel free to bring your own.

All rooms will be provided with their own laundry hamper to use upon check out.

Capacity in our shared rooms have been reduced by half, so there will only be one person in each bottom bunk. Unless you are travelling as a group and are the only occupants in the room, in which case you can use all the beds.

Privacy options – we have increased the availability of private dorms wherever possible. That means you can choose to book out an entire dorm room for yourself or your party. This is in addition to our existing private and family rooms with private ensuites.
Please note we are not a suitable accommodation for self-isolation so please ensure you have been in Canada for the mandatory 14 day quarantine period prior to arrival. We may ask you a few questions about symptoms & travel history. Guests experiencing COVID-19 symptoms will unfortunately not be accommodated.
What you need to know before arrival:
Please note that during COVID-19 we will have a earlier check out time of 10am. This ensures a three hour wait time before our staff enters your room. Unfortunately we will not be providing an early arrival service

Upon departure please remove the linen from your bed and place in a provided bag. (A hamper will be provided for each room). Please remove all personal belongings from your bathroom and room. Put garbage items in a plastic bag and leave tied outside your door next to your tied laundry hamper. We would also appreciate it if you could please leave the windows open for extra ventilation upon leaving.

Please leave room key on your pillow and phone the front desk on 250 423 6811 so they can time their cleaning schedules accordingly.

All of our linens are professionally laundered and will be cleaned and folded on your bed. If you require extra linens or toilet paper during your stay, please contact the front desk. We unfortunately will not be providing in room service during COVID-19.

Please note masks are mandatory in common spaces and halls. Please feel free to bring your own mask or you are more than welcome to purchase one at reception.

Guest kitchen and laundry areas are limited to one family/ group or a certain capacity at any given time. Guests are required to reserve their time via the front desk.

To allow us to adequately adhere to distancing measures, maximum occupancy signs are posted in our dining area, games room, reading area and TV room. Hostel board games and books are temporarily unavailable. Pool cues & ping pong bats will be sanitized between each use and can be obtained reception Unfortunately, the sauna will remain closed during COVID-19.

Please note guests will be required to provide their own basic cutlery. Dishware totes with cutlery, mugs and plates are available at a reasonable cost at the front desk or please feel free to bring your own.

After using the kitchen please take your cutlery with you. Place dirty pots and pans in required sanitary cleaning solution, wash with hot soapy water, wait to air dry and put back on shelf. Please wipe all counters completely with cleaning disinfectant that will be provided in the kitchen and put wash cloth in provided bucket. Staff will be checking kitchen and wiping kitchen surfaces regularly throughout the day and evening.

You will be provided with a fully disinfected dry food storage locker and fridge storage bucket to use during your stay with us.

We are implementing and monitoring social distancing on group gatherings to comply with COVID-19 health guidelines. This means keeping a 2-meter distance from anyone not in your family or pod. No gatherings beyond six persons.

Masks are mandatory in all common areas and halls
Please be considerate of other guest's health and safety. We look forward to hosting you and providing you with a safe and enjoyable stay.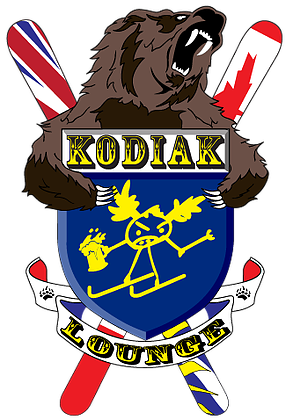 Kodiak Lounge COVID-19 Policies
We look forward to hosting you at The Kodiak Lounge in a safe and comfortable environment.
Here are our operation policies:
All our staff have received additional training on hygiene protocols and procedures as we continue to monitor and implement industry and public health best practices.

We are operating at a reduced capacity. All tables are separated in compliance with health and safety guidelines. No more than 6 people per table please.

Tables and stools are sanitized before and after each guest.

A plexiglass shield has been installed at our bar for the health and safety of both our staff and guests.

High contact areas and washrooms are sanitized frequently and diligently throughout the day.

Our team's health will be monitored daily. Please do not enter our bar with any signs of illness, no matter how minor.

Please wash hands thoroughly, our team will be washing their hands frequently.

Please utilize our complimentary hand sanitizer found throughout the bar.

Social distancing markers will be provided on the floor throughout the bar.

Please social distance from other groups at a minimum of 2 meters. Groups of friends or family members must consist of a maximum of 6 people and must stay at least 2 meters from another pod or family. Our tables are distanced 2 meters apart.

During COVID-19 there is no moving of chairs. Please ask our staff if you require extra chairs.

Masks are required in our bar.

Table service only as we are trying to limit the amount of people moving around the bar.

Please place glasses at the end of the table.

Contactless payment is available and recommended.

Any customer unable to meet social distancing protocols will be kindly asked to leave, due to work safe BC guidelines.
Thank you for your cooperation and understanding during this time. Please be considerate of other guest's health and safety, we look forward to having you and providing you with a safe and enjoyable visit.
Merch
Check out our brand new online shop for official Raging Elk gear. From Tees to Toques, we have a wide selection to keep you outfitted anytime of the year.